India
'Assam Has Blocked Medicine Supply To The State', Claims Mizoram Drugs Association
[ad_1]
Aizawal: Mizoram Chemist and Druggist Association has sent a letter to the chief secretary of Mizoram alleging that Assam has blocked the shipment of medicine to the state.
The association further claimed that in the name of "security concern", the Assam Government with the help of Assam Police,  has verbally given instruction to all transporters in Guwahati not to book any goods or even medicine destined for Mizoram on 29th July. Even the couriers have been barred from booking.
It further added that in this pandemic situation, Assam stopping life-saving drugs from reaching Mizoram can lead to a dire situation for which Mizoram can face far-reaching ramifications and consequences.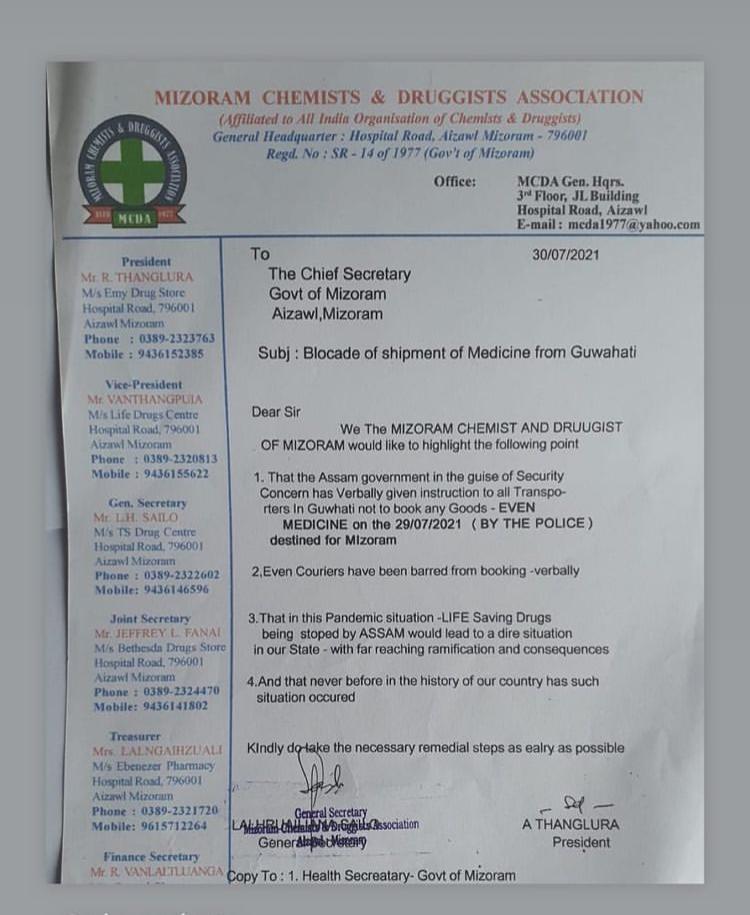 The association further said such a situation has never occurred in the history of Mizoram and appealed to the government to take necessary remedial steps as early as possible.
Mizoram Health Minister R Lalthangliana on Sunday claimed that medical supplies, including COVID-19 test kits, were being blocked from entering the state from Assam due to the blockade being imposed in the Barak Valley region after the border dispute.
On the other hand, Assam said that no organisation is currently directing any blockade in the state. Mizoram is currently facing the second Covid wave and is one of the most affected states in the country.
Assam Chief Minister Himanta Biswa Sarma said he will be going to the Supreme Court to resolve the issue over the July 26 border incident in which six Assam Police personnel were killed in firing and clashes but at the same time would not allow his officers to be investigated.
Meanwhile, officials in Mizoram on Saturday stated that no vehicle has entered the state from Assam since the clash at the border despite Assam's assertion that the "economic blockade" staged on National Highway 306 has been lifted.
[ad_2]
Source link