India
BJP Slams WBCHSE President For Revealing Religion Of Class 12 Exam Topper, TMC Responds
[ad_1]
Kolkata: A bitter war of words has escalated between BJP and TMC over a government official announcing the topper of the state Higher Secondary Boards as a "Muslim girl".
Rumana Sultana, a student from Murshidabad Kandi's Raja Manindra Chandra Girls High School, has secured 499 marks out of 500 in the WBCHSE Higher Secondary exams. She is reportedly the first girl from a minority community, in recent times to top the exam.
West Bengal BJP has raised the question that if someone has topped the exam, her ability should be emphasized, and not her religion.
Dr. Mahua Das, President of West Bengal Council of Higher Secondary Education, emphasized the religion of the girl when she declared, "I will not say her name but I think history has been created as a Muslim girl, from Murshidabad district, singularly got 499 marks."
Responding to this, Asansol BJP MLA and BJP Mahila Morcha Prez, Agnimitra Paul tweeted, "Revealing the results, the HS council president Mahua Das says that 1 Muslim student achieves 1st position but I do not understand, why she branded the student as MUSLIM?  If a Hindu student came 1st would she have said HINDU? shocking to see such petty thinking! INSPIRATION!!"

Despite the fact that the WBCHSE did not release a merit list because no offline exams were held this year in light of the Covid-19 pandemic, Rumana has unofficially topped the exams based on the marks she received on the basis of an evaluation pattern.
The row has also escalated to a national level as BJP IT National Head Amit Malviya said on Twitter, "In Mamata Banerjee's Bengal, appeasement politics hits a new low, when a board official reduced academic achievement of a class 12th girl student to her religious identity… She repeatedly mentioned that the girl is a Muslim! One wonders what more these students have to endure?"
BJP leader Suvendu Adhikari added, "A student is a student. Strongly condemn the institutionalization of appeasement politics in WB."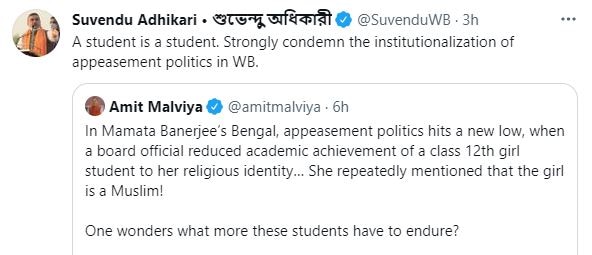 In response to the criticism, former Cabinet Minister and TMC leader, Madan Mitra said, "I know Mahua Das for a long time. Bengal's tradition is "Neither am I Hindu nor am I Muslim". While passing by a Temple, often our tongue slips into saying that this is a Kali temple where the Hindus pray, or while passing by a masjid we often say 'Muslims are observing Namaz. These are sensitive issues. I am proud whether she is a Muslim or Hindu and would congratulate her."
BJP leader Sourav Sikdar also strongly condemned the TMC government and said "I think that students do not any religion; their religion is education. Mamata and her associates have plunged down Bengal and Bengali Culture so much that this is its proof. That education administrations, who in future will show the way to countless students are enunciating the religion of the students. This is shameful. I staunchly criticise it. They are trying to melt poison into the youths or students for TMC'S appeasement politics."
Hailing from Kandi in Murshidabad, Rumana had previously secured 687 marks out of 500 in the 2019 Madhyamik exams.
Being the daughter of a headmaster and a teacher, Rumana credits her success to her parents. Her father is the headmaster in Bharatpur Gayasabad Achala Vidyalaya. She has high ambitions of becoming a scientist and said, "I still believe that if the exams would have happened it would be better then, but still in satisfied."
[ad_2]
Source link