Flash
India at Tokyo Olympics Day 10 LIVE Updates: Kamalpreet Kaur and Fouaad Mirza in finals action
[ad_1]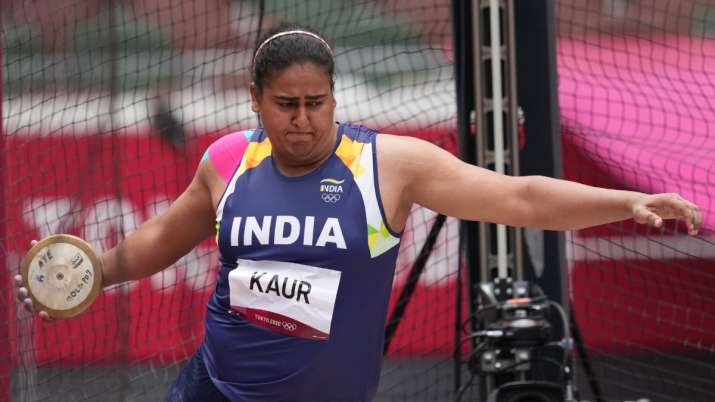 Results for India on Day 10 so far:​
Women's Hockey: India enter semifinals; beat Australia 1-0
Equestrian: Fouaad Mirza qualifies for Jumping individual final after finishing in top-25 in qualification.
Athletics: Dutee Chand clocked 23.85 seconds to finish last (7th) in heat 4 of 200m event; out of medal run. 
Shooting: Both Aishwary Tomar (21st) and Sanjeev Rajput (32nd) fail to qualify for medal event.
———————————————————————————————————————
05:44 PM: Rain has stopped and they have managed to dry up the circle. 
05:34 IST: Meanwhile, Cuba's Mijain Lopez becomes the first man with 4 wrestling golds in Olympics – READ MORE
05:16 PM (Equestrian): Fouaad Mirza and Seigneur Medicott register 12.40 penalty points in final jump. Their combined penalty points are 59.50
05.13 PM: (Discus Throw Final) "The competition has been postponed due to bad weather," tweets the SAI.
05.02 PM: (Discus Throw Final) The competition has been delayed due to rain. Two athletes have made their third attempts so far, but both have fouled.
04.57 PM: (Discus Throw Final) Kamalpreet has slipped to seventh after the second attempts. If she matches her personal best, she will be in contention for silver medal at this point.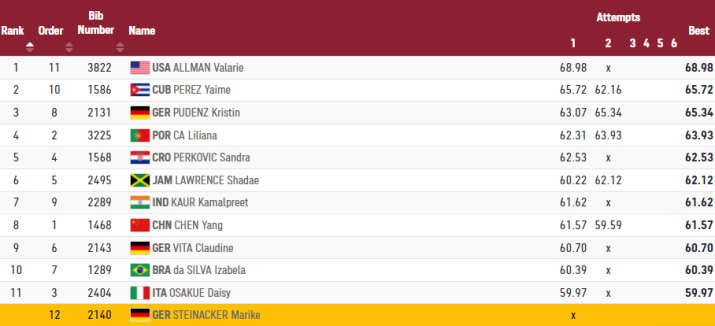 04.52 PM: (Discus Throw Final) Foul throw for Kamalpreet Kaur in her second attempt. She steps out of the throwing zone.
04.42 PM: (Discus Throw Final) Standings after first attempt. India's Kamalpreet Kaur is 6th.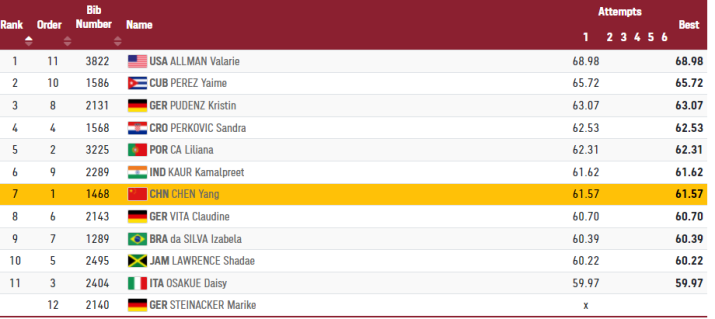 04.36 PM: (Discus Throw Final) Kamalpreet Kaur throws 61.62 in her first attempt.
04.30 PM: (Discus Throw Final) China's Yang Chen to start the proceedings. She throws 61.57m in her first throw.
04.24 PM: (Discus Throw Final) The athletes have arrived at the Olympic Stadium for the final. The competition is scheduled to start at 4:30 PM.
04.18 PM: (Discus Throw Final) In case you missed, here's the starting list for the final of the women's discus throw. USA's Allman Valarie (66.42m) Kamalpreet Kaur (64m) had earned an automatic qualification for the final.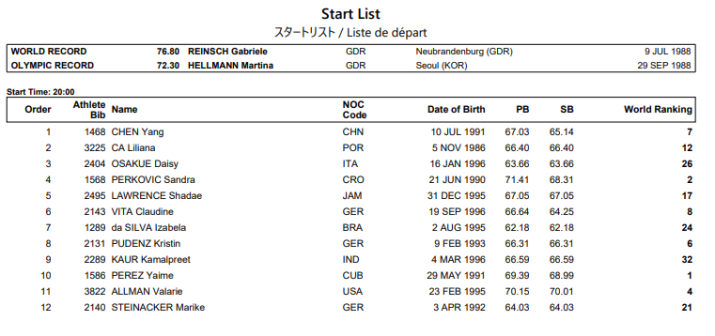 04.11 PM: (Discus Throw Final) India have won only two medals in athletics at Olympics so far. Norman Pritchard won both of them in the 1900 Olympics — in men's 200m and men's 200m hurdles. 
In women's Discus Throw event, Kamalpreet is the second Indian to qualify for Olympics final after Seema Punia. Will she end with a podium finish?
04.05 PM: (Discus Throw Final) After India women's hockey team created history earlier today by reaching its maiden semifinal in Olympic history, Kamalpreet Kaur will now aim at becoming the first Indian woman to secure a podium finish in athletics. 
She will take part in the women's Discus Throw final, which begins at 4:30 PM.
03.37 PM: (Equestrian) A medal finish is unlikely for Mirza as all the penalty points through the qualified event will be added in the end. Nevertheless, a great achievement for the Indian!
03.25 PM: (Equestrian) Fouaad Mirza, along with Seigneur Medicott has qualified for the individual final! He is ranked 25th — and guess what? Top-25 qualify for the final! Brilliant debut from Mirza.
01.55 PM: (Equestrian) Fouaad Mirza is currently 1st among 10 athletes who have performed so far in Jumping event, with penalty points of 47.20. 
01.20 PM: A two-time defending Olympic Champion, a season top performer and a world champion stand between Kamalpreet and her historic medal at the Tokyo Olympics.
Read the preview for the Discus Throw Final here:
11.45 AM: India's only event remaining on Day 10 of 2020 Tokyo Olympics:
Women's Discus Throw Final: Kamalpreet Kaur – 4:30 PM
10.35 AM: (Shooting) Sanjeev Tomar finishes with a total of 1157 at 32nd position.
10:10 AM: (Shooting) Aishwary finished 21st with a total of 1167 out of 1200 while Sanjeev is yet to complete his Standing round but is way behind the required top-eight place at 31.
10:08 AM: (Shooting) Indian medal hopes end with both Sanjeev Rajput and Aishwary Pratap Singh Tomar failing to reach the final of men's individual 50m Rifle 3 Position Event.  
10:04 AM: (Women's Hockey) Despite Gurjit's heroics, goalkeeper Savita Punia is certainly the hero of the match as she kept on thwarting every Australian attack with her big saves. She made nine saves in total, seven of them from the penalty corner.
10:01 AM: (Women's Hockey) FULL TIME! INDIA 1-0 AUSTRALIA What an amazing moment for Indian hockey! Gurjit Kaur's second quarter goal was all it took for India to reach the semi-finals for the first time!
10:01 AM: (Women's Hockey) India are defending with all their might now. For Aussies, it's now or never.
9:59 AM: (Women's Hockey) Australia have increased their intensity through penalty corners with three back-to-back PCs but Savita makes herself big in front of the goal to save them all. Just 2 minutes left on the clock, PHEW! 
9:58 AM: (Shooting) India's shooting medal hopes are fast diminishing with Aishwary dropping further down to 20th place. So far 95 and 96 in the standing round for him.
9:54 AM: (Women's Hockey) Last four minutes have hardly seen any opening for the Australians, India are maintaining numbers in defence and cluttering the box. Less than four minutes left now.
9:49 AM: (Women's Hockey) Savita has stepped up on the big occasion with two good saves of the resulting PCs.
9:48 AM: (Women's Hockey) Australia earn two back-to-back penalty corners with less than 9 minutes to go.
9:41 AM: (Women's Hockey) The final quarter begins with India willing to maintain shape in the defence.
9:40 AM: (Shooting) Aishwary slips to 17th with 95 in Series 1 of Standing Round. With 30 rounds left, the young shooter must shoot a flurry of 10s to confirm 50m rifle 3P final berth. Rajput climbed to 22 but is yet to begin his Standing Round.
9:39 AM: (Women's Hockey) The third quarter ends with India still hanging on with the slender 1-0 lead. 
9:28 AM: (Shooting) The prone round must have dented Aishwary's confidence as he is now 10 points of the lead compared to just a solitary point at the end of the Kneeling round.
9:26 AM: (Shooting) Sanjeev Rajput finally completes his Prone round with a total of 393 out of possible 400 (40 rounds) and sits 23rd with a total of 780 out of 800. Aishwary is 16th with 788.
9:22 AM: (Women's Hockey) Australia earn a PC after a brilliant save from Savita Punia. 
9:10 AM: (Women's Hockey) The second quarter ends with India maintaining 1-0 lead with Gurjit Kaur's goal from PC.
9:09 AM: (Shooting) Meanwhile Sanjeev Rajput is in the 25th spot with 10 rounds left in the Prone round. After scoring 391 in Kneeling, he has so far picked 197 out of possible 200 with series 2 a perfect 100.
9:07 AM: (Women's hockey): WOAH! That was close as Salima Tete misses a big chance. Penetrating into Australian defensive third, Salima's attempt just flew over the crossbar.
9:06 AM: (Shooting) Aishwary is finding it hard to maintain consistency now as he slipped to 11t spot at the end of Prone Round. The 40 shots in the 4 series round saw him pick 391 out of a possible 400. That's six points less than what he picked in Kneeling round. He did started well with 98 and 99 in first two series but then dipped with 97s in the last two.
9:02 AM: What a day for Gurjit to score. The dragflick specialist has been facing criticism for not converting the penalty corners and she finally delivered against the biggest of opponents in Australia. It took 28 PC for India to score one; let's hope a new streak doesn't begin.
8:59 AM: (Women's hockey) GOAL! Gurjit Kaur converts the penalty corner to give India 1-0 lead!
8:51 AM: (Women's hockey) The second quarter begins with India doing early defending.
8:48 AM: (Shooting) Aishwary ends series 1 of Prone round has slipped to fourth spot with 98 out of possible 100; the margin of error is next to nothing. 
8:45 AM: (Women's hockey) At the end of the first quarter, the Indian team must be pretty happy with their performance as they have enjoyed a upper hand over the Australians so far with more intensity in the attack. However, Australia has three opportunities on the goal from open play while India had one chance.
8:43 AM: (Women's hockey) Indian forward Sharmila Devi injured herself during a 50-50 chance inside the box as she collided with an Australian defender. She struggled to get back to her feet for few minutes but then walked off the ground holding her waist to get medical assistance on the sideline. 
8:35 AM: (Shooting) Sanjeev Rajput slumps to 26th spot at the end of kneeling round with a total of 300 out of possible 400. Aishwary remains at second spot with Larsen edging him out with a single point at 398. Prone and Standing rounds (4 series or 40 rounds each) are soon to begin.
8:30 AM: (Women's hockey) Meanwhile Australia vs India quarter-final match has begin. Rani Rampal and Co. will have to punch above their weight to upset the Australians today for a spot in historic semi-final.
8:27 AM: Aishwary has completed his 4 series of kneeling round with a strong total of 397 out of 400 — with a perfect 100 in the last series — and is now sitting in the second spot behind Denmark's Henrik Larsen, who must be feeling the pressure with his entire fourth series left.
8:23 AM: Aishwary has started strongly as he is currently sitting second in the kneeling round (4 series round) with an excellent total of 297 out of possible 300 in the first three series (30 rounds with each fetching maximum 10 points. Meanwhile, Sanjeev is 19th with 96 (series 1) and 99 (series 2) each out of possible 100s at the end of series 2 of kneeling rounds, 
8:04 AM: Sanjeev Rajput and Aishwary Pratap Singh Tomar are all set for the men's individual air rifle 50m 3P. The nine-year wait of last shooting medal for India since Gagan Narang 10m air rifle bronze at the 2012 London Olympics.
7:30 AM: Detailed result of the 200m heat 4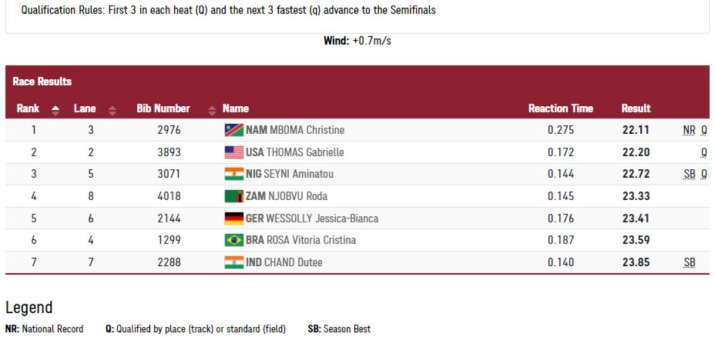 7:30 AM: Official confirmation is out, Dutee finishes 7th and last with a disappointing timing of 23:85 seconds; much below her personal best in 200m. Once again she has failed to peak at the big stage.
7:25 AM: Dutee finishes seventh with a timing of while Christine Mboma takes the heat with a timing of 22.11 seconds. Runners await official confirmation.
7:24 AM: Only the top three qualifies as Dutee starts from Lane 6.
7:24 AM: Apart from Gabrielle and Dutee, other runners in fray are Christine Mboma (Namibia), Cristina Rosa Vitoria (Brazil), Roda Njobvu among favourites to qualify.
7:21 AM: In fact, Dutee's 2019 timing of 23.17 sec is also the slowest among the seven runners competing in the 200m heat 4 with many of her rivals at least have close to half a second lead as their season-best over the Indian runner.
7:19 AM: Th favourite for the heat is USA's Gabrielle Thomas, who clocked 21.61 seconds at the Olympic trials earlier in June.
7:16 AM: Dutee will have to punch above her weight if she wants to make it to the semis of the 200m event as she hasn't competed in 200m at all this year. She last competed in the event back in 2019, putting a season-best timing, within the Olympic ranking period, of 23.17 seconds.
7:11 AM: Dutee Chand will be in action in 12 minutes time in the heat 4 of women's 200m event with fans hoping for a better performance from her after she finished 7th in the 100m heat couple of days ago with a below-par timing of 11.54 seconds.
6:11 AM: On Monday, India's action will be headed by Kamalpreet Kaur, Dutee Chand, and the women's hockey team. The women's hockey side will be in action in the quarterfinals against a strong Australian camp. With eyes on a medal, discus thrower Kamlpreet Kaur will compete in the women's finals, hoping to replicate her brilliant qualification performance in the main event.
Dutee Chand will also compete in women's 200m Heat, and Sanjeev Rajput and Aishwary Pratap Singh Tomar will try to improve the Indian shooting camp's disappointing show in Tokyo. They will compete in the men's 50m rifle 3 positions. Here's all you can expect from the Indian contingent on Monday, August 2.
6:00 AM: Welcome to the live blog from Day 10 of Tokyo Olympics. Earlier on Day 9, Ace badminton player PV Sindhu and the Indian men's hockey team stole the show on Sunday with their record-breaking performances at the Tokyo Olympics. Sindhu smashed her way into history books with a second successive Olympic medal while the men's hockey team ignited hopes of a long-awaited medal by storming into the semifinals.
Sindhu secured a bronze medal by beating world no.9 He Bing Jiao of China. Minutes later, the hockey contingent brushed aside Britain by a 3-1 margin to book the semifinals berth after 49 years. Boxer Satish Kumar, however, didn't win his quarterfinal bout as he lost a gruelling contest against world champion Bakhodir Jalolov.


[ad_2]
Source link