Flash
PM Modi meets Assam BJP MPs amid border tensions with Mizoram
[ad_1]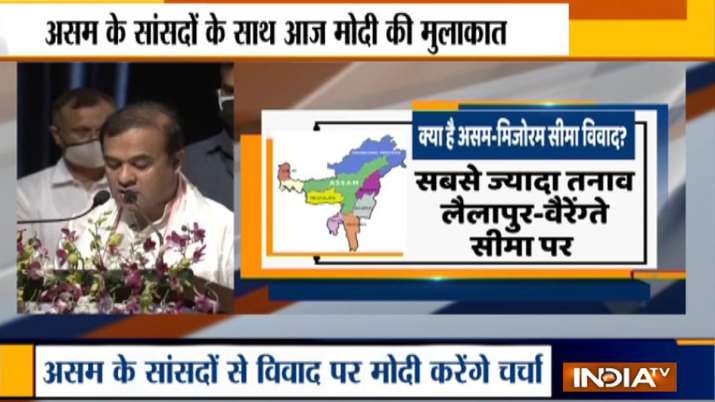 Amid tensions between Assam and Mizoram over the recent border clash, Prime Minister Narendra Modi on Monday met BJP MPs from Assam to discuss the prevailing situation. The border dispute had taken a violent turn last week leading to the deaths of at least six Assam Police officials. 
Besides BJP MPs from Assam, Union Minister Sarbananda Sonowal was also present at the meeting.
The meeting assumes significance as it comes after the Assam government's decision to withdraw a police case against K Vanlalvena, Rajya Sabha MP from Mizoram, signalling further easing of tension. Earlier on Sunday, the Mizoram government had decided to remove Assam CM Himanta Biswa Sarma's name from an FIR.
The Prime Minister is believed to have discussed the standoff between the two states during the meeting with MPs. The Centre has said that it is working with the state governments closely and efforts are underway to resolve the issue.
Union Home Minister Amit Shah is also trying to diffuse the crisis. Notably, the Chief Ministers of both the states have also spoken and vowed to restore peace. According to reports, Assam CM Himanta Biswa Sarma and his Mizoram counterpart Zoramthanga had held a telephonic conversation with Shah.
Earlier today, Mizoram Governor K Hari Babu met Prime Minister Narendra Modi in Parliament and said the Centre is trying to find a solution to the issue. He will also meet Home Minister Amit Shah later in the afternoon.
"The Home Minister is trying to defuse the tension and he is trying to find the solution. Both Chief Ministers (of Assam and Mizoram) have committed that peace will be restored," he said.
Meanwhile, reports say that the Chief Ministers are also likely to meet soon.
At least six Assam Police personnel and one civilian were killed and more than 50 people injured, including the police chief of the district of Cachar, in a fire-fight between the police of the two states on a disputed stretch of their boundary, near Dholai in Cachar district on July 25. Tension along the border with Mizoram in Cachar and Hailakandi districts of Assam have been escalating since October 2020 with frequent incidents of burning of houses and encroachment of land.
The two states share a 164.6-km border between Assam's Cachar, Hailakandi and Karimganj districts, and Mizoram's Kolasib, Mamit and Aizawl districts. Both states have differing interpretations of their territorial border. While Mizoram believes that its border lies along an 'inner line' drawn up in 1875 to protect tribals from outside influence, Assam goes by a district demarcation done in the 1930s.
READ MORE: Incidents at Assam-Mizoram border unacceptable, talk only solution: Himanta Biswa Sarma
READ MORE: Assam-Mizoram border issue: States agree to withdraw forces


[ad_2]
Source link