India
Sonia Gandhi Reconstitutes Congress Parliamentary Groups, Adhir Continues To Be LS Leader
[ad_1]
New Delhi: Speculation regarding the Congress party getting a new Lok Sabha leader have been put to rest as interim president Sonia Gandhi reconstituted the party's parliament groups for both houses for effective functioning of the party ahead of parliament's monsoon session beginning July 19.
Contrary to claims, Adhir Ranjan Chowdhury continues to be the leader of the party in the Lok Sabha.
ALSO READ | Delhi Cop Salutes Photojournalist Danish Siddiqui At Memorial Meet As India Mourns His Killing In Kandahar
Sonia Gandhi, as Chairman of the Congress Parliamentary Party, on July 15 issued a letter where she wrote, "I have decided to reconstitute the following groups to facilitate and ensure effective functioning of our party in both houses of Parliament."
In the Lok Sabha, Congress party's group has Adhir Ranjan Choudhury, Gaurav Gogoi, Manish Tewari, K. Suresh, Manickam Tagore, Shashi Tharoor and Ravneet Bittu.
In the Rajya Sabha, Mallikarjun Kharge, Anand Sharma, Jairam Ramesh, Ambika Soni, Digvijaya Singh, P. Chidambaram, and K.C. Venugopal will represent the party.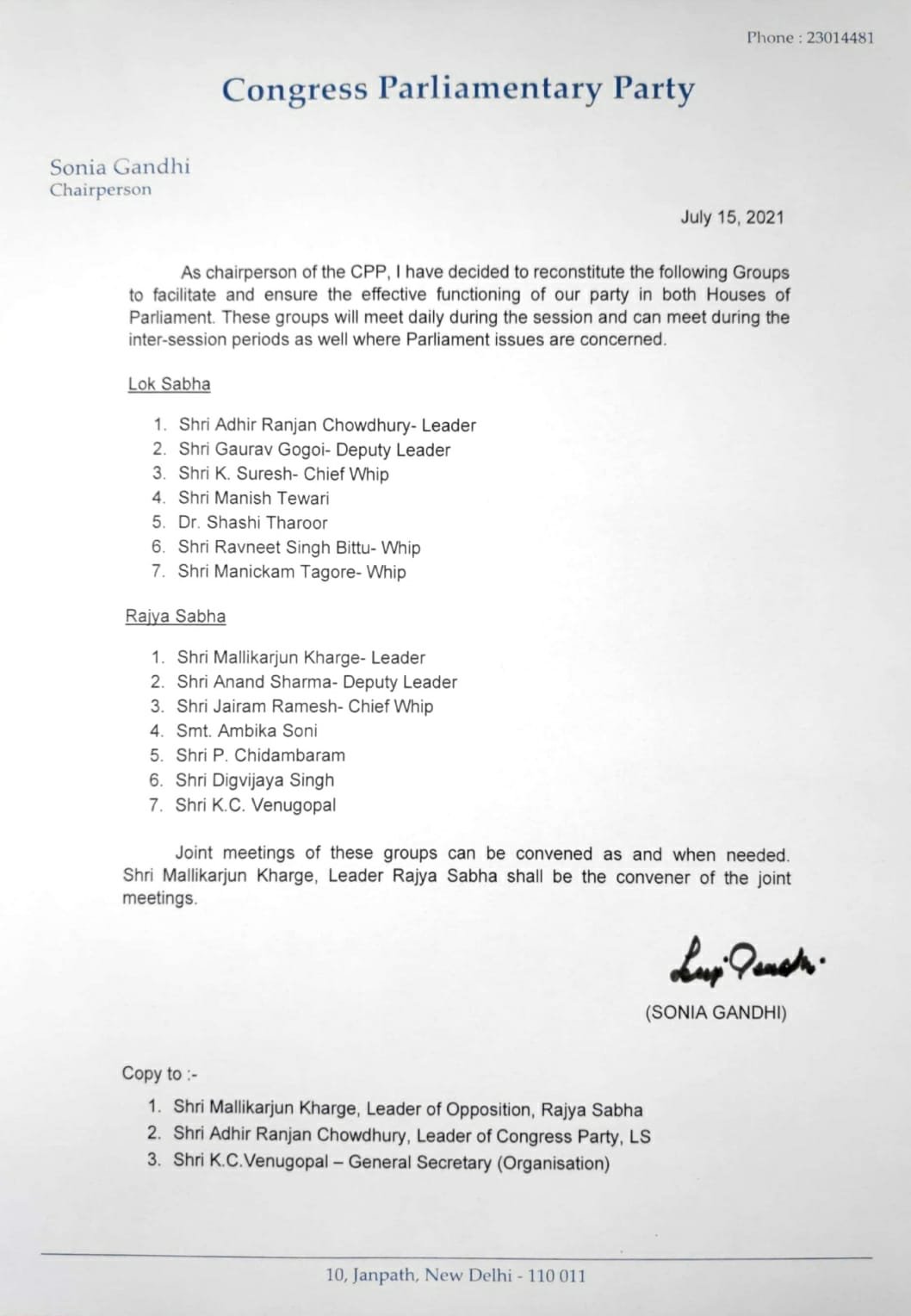 Kharge has been authorised to convene joint meetings and the members will meet regularly during the session and afterward whenever required, the letter informed.
Congress has decided to bring up issues of inflation, fuel price hike, COVID crisis mismanagement, and the border faceoff with China in the upcoming Monsoon session.
Congress Parliamentary Party chairperson Sonia Gandhi met the strategy group on Wednesday evening. The party is also expected to raise the Rafale deal issue after the recent development in France, where a probe in alleged kickbacks has been initiated.
Rajya Sabha leader Mallikarjun Kharge will oversee the coordination with other opposition parties as Congress wants joint opposition strategy in the house to corner the government.
Earlier there was speculation about Sonia Gandhi replacing Chowdhury, several other names such as Shashi Tharoor and Manish Tiwari were reported to be in consideration for changing LS leader.
The Monsoon session of Parliament will be held from July 19 to August 13. It will have 19 working days.
Lok Sabha Speaker Om Birla said that all protocols related to COVID will be followed during the session. Those who have not received their Coronavirus vaccination will be asked to undergo an RT-PCR test before entering the Parliament premises.
(With Agency Inputs)
[ad_2]
Source link